Lightning activity moves Down Under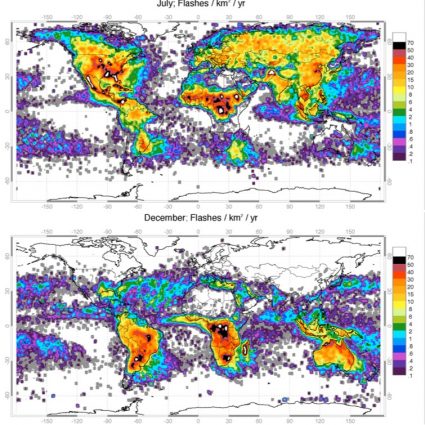 It's winter time in Northern Hemisphere with a very low density of lightning discharges. It goes the other way down under in the southern hemisphere. Maps (December and July lighting activity) clearly show the inversion, yellow/orange/red being the highest lightning density areas.
With the heat in the South, press starts relating lightning accidents. In just a week, reports mentioned:
a plane was forced to turn back to Invercargill after being struck by lightning. Following the incident, the smell of smoke was detectable in the cabin and passengers were informed the aircraft's nose was damaged.
In Australia, a dramatic lightning accident ignited fire on top of an heritage building: the 1888 home known as Amesbury in Sydney was badly damaged.
The BBC reported a devastating lightning storm in Mozambique, close to the Malawi border. At least four people have been killed. "The storm also destroyed homes, uprooted trees and electricity poles and blew away roofs of some schools and a local prosecutor's office."
Plenty of these accidents are avoidable. Low engineering education, lack of investment, conservatism of some engineers sticking to old age system design, absence of proper maintenance… these factors still curb the proper protection of people and structures again lightning disasters.
For further inquiries, please contact INDELEC or its local representative.
Pour plus d'information, contactez Indelec ou notre représentant local.